Testimonials
Here we are honoured to present a few of the sentiments from some of our wonderful customers. We would like to thank them for their very kind words:

"I would like to express my thanks to all concerned in completing this order.  I consider that I have had excellent service and found all the staff with whom I have spoken to be caring, considerate and most efficient.

It is never easy to deal with such matters and I will always be grateful to you for making it so straightforward."

"May I take this opportunity to thank everyone involved.  The service was always professional, friendly and helpful, especially so given the unusual circumstances.  The (uncompromised) memorial is exactly how I had wished it to be: a personal tribute to my late mother."

"I am able to say without hesitation that I am pleased I chose your company, as you have demonstrated efficiency, sympathy and understanding.  I am well pleased."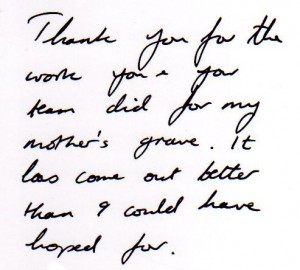 "On behalf of my brother and myself, I would like to thank you and your company for the work carried out on our family grave, restoring it to its original condition.  I am sure our late Mother would be so happy"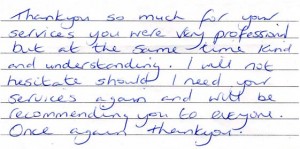 When I initially organised the funeral through xxxx, and after the funeral received an unsolicited letter from xxxx, whom I assumed were their approved masons, I took no notice.  I found you instead and am very pleased I did, with such an exemplary service.  I would now only involve your company.

We just wanted to say how much we appreciated the attention to detail in the design of a replacement for our family grave and to let you know how pleased we were with the finished result. We thought that sending us a photograph was a thoughtful gesture. Thank you.